Bold.
I think that pretty much sums up the attitude to collecting contemporary art.
And with being bold comes decisiveness, confidence, an element of risk-taking and a bit of luck. A collection with resonance and cohesion is brought together over time, by looking, thinking, talking through, then taking the plunge and buying. Time builds confidence.
The starting point should be interest and curiosity (and yes, disposable income helps). There may not be a defined acquisitions policy – you are not, after all, a public institution – though each of us has a certain aesthetic, which in time, becomes more recognisable.  It will take persistence, education and self-awareness, together with a few purchases and possibly a couple mistakes, to be able to articulate which artwork, genre, medium or artist holds your gaze. The best collections reveal this journey. As life is a work in progress, so too is building a collection.
It is often the quirks of the individual collector which make for the most interesting collections. Different parameters, be they budget, genre, size, relationships with dealers and artists, availability and access will determine the idiosyncracies of the collection. Quality should be the unspoken bottom line. Collect what you like, so long as it is of good quality, as this will sustain the true value of the collection as whole.
Whilst collecting art has not become the national pastime (yet) there are more people actively and openly developing collections of many shapes and sizes, which have the potential to shift the way we experience the world around us. The power of the art collection as a whole extends beyond the impact of the individual works themselves.
Think of the tremendous cultural force behind the reinvigoration of the Chippendale neighbourhood, brought about by White Rabbit Collection – the private museum dedicated to contemporary Chinese art – and the ongoing ambitions of the collector/ benefactor Judith Nielsen for public art spaces in the locale. Sure, the UTS development nearby has added to the buzz, but there can be no doubt where it started.
MONA's impact on the Tasmanian landscape has been seismic.  The presentation of David Walsh's private collection has reverberated internationally, with people flocking south to check it out. Tourists who would not normally visit galleries, save the Louvre when they visit Paris (just because it's on the list), now have Hobart on their must-visit destination list.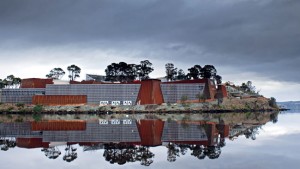 And when not viewing the art on display, these tourists have other demands to complete the experience. They expect quality accommodation, (good) food and wine, other cultural initiatives (such as GASP!), transportation etc. Business opportunities abound; political agendas are extended, hospitality and training gets a shot in the arm and the place begins to thrive. There is a multiplier effect at work. David Walsh's peculiar collecting tendencies have pretty much single-handedly offered Tasmania the prosperous future which no government was previously able to do.
All this is possible because of the collector's belief in the social responsibility to share the pleasures and wonder of their collection of artworks.
When there is no private museum in which to present the collection to the public, there is always the option to lend (or eventually give) it to a public museum. All the great public museums of the  world have been founded in private collections. It is not a new phenomenon that public institutions rely on private largesse to build their collections. And it is certainly not new that this largesse brings great and invariably longstanding respectability and cultural authority to those benefactor collectors. It becomes a useful, mutually beneficial relationship which needs to be deftly managed to ensure the public/private agendas remain clear and separate.
If you're not ready to give it all away – and that is a whole other journey – then being open to lending either a single work or significant part of the collection, is as valuable. And so it is with Stars + Stripes, the Danny and Lisa Goldberg Collection of Contemporary American Art on currently at Manly Art Gallery & Museum. This is great example of a public private partnership as Museums & Galleries NSW have worked with the Goldberg's to present a component of their collection, as a cohesive exhibition curated by Bathurst Regional Art Gallery Director Richard Perram, to tour it to regional NSW, Victoria and Queensland.
This collection is particularly interesting as it has morphed over time. The Goldberg's began their collection 30 odd years ago, though the vast majority of works were by Australian artists.  The majority of this part of the collection has since been donated to the Art Gallery of NSW.
About 4 years ago  as Danny began spending an increasing  amount of his time overseas for work and the collecting obsession set in ( his words) , he decided to refocus his collection on International art of the 21C. What we have here is an exhibition curated exclusively around Goldberg's recent acquisitions of American art. It offers a fascinating snapshot of contemporary American art practices.
It is a collecting practice which is risky, untested and relies on an urgent response: just buy it now! Anecdotally, I gather the Goldbergs are less interested in the idea of investment (though they have collected some significant artists) but more in the most up-to-date artistic responses to a place and time, that of contemporary America.
This collection did not start as an interior design exercise: it began with fascination and, seems to me, quickly escalated into an addiction. My curiosity is not just with the artworks, but also with the collector and how they live with them. I do believe it is a privilege to live with art and the thrill of navigating around some of these pieces on your way to the loo, the laundry or in amongst the school bags would nullify any suburban complacence and enrich daily life.
As an exhibition, the works are not easily digested. There is mostly only a single example of each artist, with little didactic information. If you've never heard of the artists before, it is difficult to access the  'stories' behind the works and the artists' practices: what drives the artist? where did the ideas behind this work come from? Google 'post-visit' certainly adds another layer of understanding.
Ironically, for a 21st C body of artworks, it becomes a bit of a lesson in 20thC American art history, which many of these contemporary artists seem to reference. Memories of the works of Judd, Rauschenberg, Duchamp, Johns, Stella, Louis bubble to the surface and offer a way to begin to engage with these new works. The artists definitely acknowledge those grand mid -20thcentury American artist–heros, but counterpoint the references by using the most contemporary of materials. The materials to create the works are paramount. These are not simple oils or acrylics on the finest Belgian linen. Contemporary modes of industrial materials are deployed en masse to create these works: diet coke is used as paint; coal dust is sprinkled liberally, dibond, lighting gels, polyurethane, plastic laminated wood, coroplast (I don't even know what that is), powder coasted aluminium. These are hardcore industrial strength works of art.
Twin windows in weary frames, sit together, smashed to precisely the same pattern is the work of Tavares Strachan. There is nothing haphazard or random about the execution or presentation of this curious work, so precise is the pattern of shattered glass and the meticulous floating plinths on which they sit. His is pared-back aesthetic simplicity balanced with an underlying complexity based on events and experience.
Glenn Ligon's work of coal dust on canvas sparkles unashamedly under the gallery lights, luxuriating in its contemporary status of precious fossil fuel, a concept not lost on us here in Australia. Definitely not an emerging artist, Ligon was recognised with a mid-career survey show at the Whitney in 2011. His references are deeply personal, drawing on his African-American heritage and as an openly gay man.
The beautifully quietly elegant copper rectangular box by Walead Beshty remains a work in progress. It was freighted unwrapped and uncrated: just as is. Its transportation documentation paraphernalia is randomly stuck to the box, there are a few dings and the fingerprints of the freight handlers (as opposed to the obedient gallery visitors): "The bumps, scratches and scrapes, the stamps and authorising marks all become part of the ongoing creation of the work, in process." (Dr Oliver Watts, catalogue essay 2015). Beshty says that "to conserve this work is to destroy it". The entire title of the work tells the story by way of FedEx details: Copper(FedEx Golf-Bag Box 2010 FedEx 163166 Rev 10/10) Inernational Priority, Los Angeles-Hoofddorp, trk# 799869727005, May 29-June 4 2013, International Priority, Hoofddorp-Sydney, trk# 796117381500, June 28 – July 3, 2013 ….
The note says it was consigned to Goldberg's office: did it make the courier's day to hold and hand-deliver such a beautiful object? Did it make the courier's day to be complicit in the ongoing creation of this work? It would have made mine. Were they indeed aware?
Beshty was selected by curator Okwui Enwezor for the current Venice Biennale.
It is a thoughtful gesture, to empty (almost empty?) your home and office of the objects which you love, to share them with all and sundry.  Contemporary American art has not been widely seen in this country for a long time. Yes, it formed the backbone of the National Gallery's collection which began in earnest in the 70s but since then, not much. Wonderful examples of major historical pieces from extraordinary US collections have been exhibited, a few recent pieces in past Biennales, but that's about it.
The power of this collection is not just in the works themselves but in the introduction of these artists to wide audience here. And, I believe, it is a very timely introduction. There is a swing towards considering American art at the AGNSW, no doubt because of Director Michael Brand's experiences, connections and expertise. I think we'll see more contemporary American art as part of the Sydney Modern major development. This collection exhibition is a perfect ice-breaker for us all.
The exhibition is on at Manly  until this Sunday (sorry for the late notice!). If you miss it in Manly, you can always make an adventure of it & visit the exhibition at the regional galleries in either Cowra, Taree, Dubbo, WaggaWagga, Morwell or Ipswich. Click here for tour dates.
It is likely that the public will have the opportunity to enjoy other works from the Goldberg collection, with a European focussed exhibition being developed, to be toured again by MGNSW starting  in October 2017.
Next on in Manly Art Gallery is Playground of the Pacific, a survey of Anne Zahalka's beach photographs from 1989 to present day. Most definitely worth the ferry ride….