Artist Sarah Robson's practice is informed by her wider study into creativity, the core of her research at UNSW Art and Design. She currently has an exhibition on at Manly Art Gallery & Museum which surveys the trajectories of her career. The exhibition was reviewed in the last post on this blog.
As an extension of the exhibition, Sarah gave a talk at a forum on Why Creativity? which looks more closely at the role of creativity in society in general. This certainly adds to our understanding of her work. Here is an edited version of her talk:
CREATIVITY is a very interesting and often misunderstood topic. It often provokes broad generalizations such as,  everyone is creative; I'm not creative; one of my children is creative but the other isn't.
For me, creativity is about insight, about the sharing of ideas, of being inspired, solving problems and provoking questions.  The objects I make are the concrete forms of these enquiries; the rewards are other people's enjoyment of them, gaining new insights for myself and prompting insight for others.
People often confuse artistic ability with creativity, which leads to the above generalisations. The arts encompass creative thinking and processes yet not, by any length does all creativity reside in the arts. To understand the full depth and application of creativity or creative thinking, it needs to be viewed not only within the arts but in every facet of life.
Each one of us is involved with creativity. For me, it's my business, so I am very familiar with its tools and its objectives. Yet these do not necessarily make me feel really creative or think that what I produce is always going to be highly creative. Ultimately my aim is not to be creative, instead it is to understand how the world around me works. I do this through making art because I am a maker, a tactile/ kinesthetic learner.
Through the research into creativity, there is now an understanding that it involves a complex of processes, internal and external elements, incremental development, cognition, personality, environment, motivation, zeitgeist, serendipity, the individual and society. Within each of these elements there are further characteristics that inhibit or facilitate creativity: such as the ability to sell ideas, attract an audience or gain funding…. In other words creativity is a messy unpredictable mix of variables which explains, in part, why it is found in many forms and in many places. It also explains why BIG creativity is rare and by big I mean: life changing, movement creating or true innovation, the holy grail of creativity!
These same current studies have produced a vast amount of insight into all these facets and have identified key critical components amongst this wealth of variables. Nonetheless a formula for creativity remains elusive and a unified theory of creativity is yet to be agreed upon. What has become clear from these studies however are the elements that can hinder creativity and the elements that can facilitate. Again there are still no guarantees. Creativity cannot be neatly packaged. It can be reflected upon, fueled and certainly increased in our daily lives.
As my example, I'll talk about the humble paperclip, as it is often employed for lateral thinking tests, such as, how many uses can you think of for a paper clip?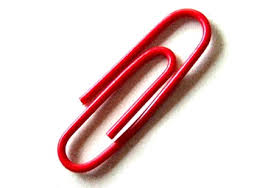 The question posed demonstrates how definitions, absolutes and labels can restrict the ability to view something as ordinary and familiar as the paperclip in any other way. People such as Ken Robinson have spoken about the unbridled creativity of children and how bit by bit this is diminished as they grow older. I agree with this, in part only. I think that creativity often involves intention and is not generated by arbitrary decisions but is instead, a considered detailed process. What I do agree with is that children do not label everything, or know the acceptable way something is supposed to be used, so they have an ability to imagine and play with objects and ideas that stretches far beyond what they were intended for and often beyond what an adult would deem acceptable – think – giant, pink, foam paperclip shaped noodle used for a float in a pool.
Creativity is all about breaking down barriers, real or imagined, to discover new relationships; applications never previously thought of and fresh ways of examining what is around us. It is not only about inventing the wheel, it is about inventing new ways for a wheel to be used or made or understood. That is why so many creativity tools are centered on shifting a viewpoint or reframing a problem. In painting for instance, you might simply turn a canvas upside down to look at it in a fresh way. Some tools can be very simple.
Creativity often involves deep analysis, despite the broad generalisation that it is more whimsical than analytical. Analysis is at the heart of most creative processes, just maybe not the sort of spreadsheet, data analysis that is generally regarded as the dominant form. Artists perhaps rarely analyse their own creative processes, hence room for my study of it, but they do analyse their work constantly, its content, form and meaning. Creativity involves the dissecting of problems, of processes and objects, often until only the constituent parts remain, ready to be reconfigured in new and innovative ways. Intuition is closely aligned with an intrinsic capacity for pattern recognition. Shifting or breaking recognizable, workable patterns, in search of different configurations, can seem counter intuitive, yet when a new pattern emerges, even a counter intuitive one, it usually does so with an ease and naturalness that leads to 'why didn't I think of that before?"
Back to the paperclip: if you remove its name and reduce it to a piece of cylindrical wire, a world of possibilities opens before you. This is where enabling constraints come into the picture: you remove the rule that a paperclip must only be used as a paperclip and its form must remain constant, and you are then only working with the material, a length of reasonably inflexible wire, and its constraints. With the rules removed, you are free to begin to re-imagine it in any way possible! Variations enter at this point: the constraint is the length of wire, its flexibility and strength; the variations are all the possible permutations you can do to it. And so begins a process of structured improvisation, of prototyping, play, observation and analysis.
Although we cannot create a formula we can remove rules. We can understand constraints and variations as fields of exploration and use them as a springboard for creativity. I have found that the best way to understand the distinction is that:
rules dictate a procedure
enabling constraints define a field of exploration and
variations are the players on that field, playing and observing which move works best and why.
All of which leads us to some particularly important ways that we can increase creativity and creative thinking in a space which is symbolic, real or imagined.
To create an environment where creativity thrives is attainable. Unlike a formula that is used to predict an outcome, this environment is one which respects what we do not know. Creativity is fundamentally about how we think beyond what we know, how we create what has not been seen, used, existed or been understood in a particular way before. It is about opening ourselves up to possibilities.
To make a creative environment, where ideas prosper, you need diversity, be it cultural, disciplinary, environmental or age. For example: how a paperclip is used by someone from a culture where resources are scarce, where even a piece of metal wire the length of a paperclip is indispensable, will differ from our perceived uses or how a culture which has never seen a paperclip before will imagine its uses, unconstrained by the name or form.  Other cultures will think of different ways to use a paperclip that could generate previously unthought of uses within our own culture.
A multi-disciplinary environment encourages discoveries of new connections, new patterns and areas of confluence, such as connections between mathematics and art, physics and writing, sport and creativity, science and languages. Such a creative environment supports exploration, supports room to play, room to fail, to take risks and room to think.
The arts can provide an environment that is visually, aurally and philosophically stimulating in which connections can be triggered, analogies formed and different understandings can be reached.
An environment of diversity fosters creative collaborations which is something creative people naturally do, sharing knowledge and expertise, inspiration and common processes. Designers collaborate with engineers, fabricators with clients, filmmakers with editors, actors and producers, artists with artisans, curators and now, often, with scientists. Again, a bit like a paperclip securing lots of different pages together in which each page has a vital bit of information within the document or project but the paperclip, the metaphorical environment, allows them to be held together.
So why creativity?
Nature thrives on diversity and creativity flourishes in diverse environments. The arts provides that integral diversity, which mixes fantasy with reality, integrates nature with humanity and merges quantitative knowledge with qualitative knowledge. It is a diversity which stimulates differing viewpoints and which triggers a particular insight which, in turn, fuels a BIG creative leap!
Einstein knew his greatest capacity was for fantasy when he said "imagination was more important than knowledge".
I believe we need both:  to think beyond what is deemed possible, reasonable and logical we need imagination and to be able to recognise boundaries, within or outside of ourselves, and push beyond them, we need knowledge.
Sarah Robson survey exhibition Spatial Interventions continues at Manly Art Gallery & Museum until 14 December 2014