This is a podcast about art: conversations between me & the people who create it, exhibit it, buy it, sell it, talk about it and, above all, love it. Our conversations reveal the depth, breadth and richness of the contemporary art scene. Find it on Spotify or Apple podcasts, or click here to listen to the latest episode. Heartfelt thanks to Simon Grant producer, Max Pasalic graphics & Mitchell Jones editor. Enjoy!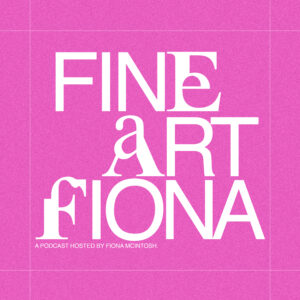 Ep 1   Jenny Turpin  part of duo Turpin Crawford Studio artists working in the public domain who seek to expand the potential for art in the public domain. They work with government and corporate clients to reimagine public spaces, and seek to reconnect people with nature and history, in place and with community.
Ep 2  Wendy Murray is visual artist and activist whose drawing and printmaking practice is based out of studios in Sydney and LA. Wendy's art is informed by her commitment to street art, graffiti art and older style printing technology. Her work captures an urban life & the pressing social and political issues of the day. She has a profound understanding of the power that image and text can play in the public domain.
Ep 3  Landscape architect Neil Hobbs whose passion for art and collecting has led him to initiate Contour 556 the biennial festival in Canberra celebrating art, installation, sculpture & performance in the designed landscape
Ep 4 Trent Jansen is an object designer whose practice is founded in material culture theory. He calls himself a design anthropologist, seeking to design and produce user-friendly everyday objects which are embodied with a contemporary Australian identity, devoid of stereotypes but real and all embracing. The series of functional objects Ngumu Janka Warnti (All made from rubbish) of 2020 arose from his collaborations with Johnny Nargoodah, a Nykina/ Walmajarri Elder of Fitzroy Crossing.
Ep 5 Dean Cross was born and raised on Ngunnawal/Ngambri Country and is of Worimi descent. His career began in contemporary dance, performing and choreographing nationally and internationally for over a decade with Australia's leading dance companies. He stepped across into the visual arts and since then, has gained considerable respect for a practice which critically examines where contemporary Australia is at, in terms of how we value and respect the richness and depth of the cultures of Indigenous Australians.
Ep 6 Elvis Richardson's art practice reveals the value and mystery in an ordinary life, as well as the harsh reality of its precariousness. She relies on found images and objects, sourced from the public domain, online or on the street, to give voice to the stories often deemed less interesting. A significant part of her practice includes a major research project The CoUNTess Report. It is both art and advocacy, collecting and analysing data on gender imbalance across the art world and was the impetus for the #knowmyname movement.
Ep 7 Nicholas Smith The newest gallery on the Sydney scene opened during Sydney's 2021 COVID lockdown – N Smith Gallery. Director Nicholas Smith is optimistic for the potential for the gallery to make a lasting impact because of his belief in the artists he represents
Ep 8 Luise Guest is an experienced art educator, writer & scholar with a deep knowledge of contemporary Chinese art, particularly that of women artists. For over 10 years Luise has travelled to China regularly, interviewing artists in their studios, exploring the extraordinary Chinese art world and writing about who she meets and what she sees and learns. Her book 'Half the Sky: Conversations with Women Artists in China' shares the fascinating and not-often-told stories of some incredibly talented Chinese women artists working today.
Ep 9 Kath Fries works with organic ephemeral material – ice, funghi & mycelium, bamboo – as sculptures & installations, as a means to make sense of our real & imagined worlds
Ep 10 The biodiversity crisis facing Australia's native flora and fauna is the focus of Pamela Pauline's most recent photographic series: Fragile, Beauty Rich and Rare and On the Brink. Each artwork reflects true mastery of digital photography, in capturing the images of individual birds and plants, and painstakingly piecing them together when back in the studio to create ethereal landscapes and sumptuous still life compositions.
Ep 11  Elliott Routledge works on both outdoors in public spaces – think large urban walls – as well as paintings on canvas at a more domestic scale. His early years as a graffiti artist honed his technique & love of colour & graphics. His works are about joy – be it the colour blue, the loopy line, the random organic shapes.
Ep 12 Artist PhilJames who masterfully blends the cartoon characters & pop cultural icons of his childhood into repros of Old Masters paintings. Bringing a contemporary vernacular & humour to the past.